The Leckner finance department serving the VA, MD and DC areas does their best to get you a car loan even if you have had difficulty elsewhere. We'll do everything we can to see you leave one of our many locations in a car that's going to change your life.
For some other dealers a second chance car loan is a near impossibility.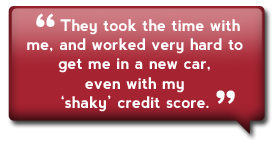 At Leckner, we have resources that can make your new car dreams a reality. We know that buying a car is a big purchase, especially when you need a little help getting started. Our finance team is committed to helping you obtain a loan that is designed to help you out when you need it and not bog you down with payments you can't afford.
Complete our finance application and get in touch with someone from our finance department simply by clicking below. They have the expertise and resources to address almost any obstacles to your car purchase.  Stop in to any of our locations to discover how Leckner can provide you with financing options and get you on the road today.